Gift Packaging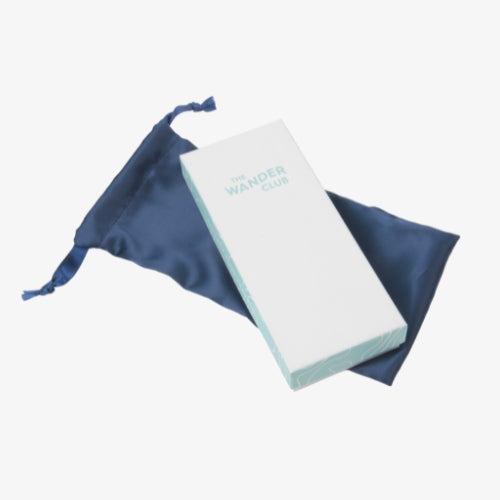 Free shipping on $50+

Easy Returns

Great gift idea!
Shipping/Returns
1. How much is shipping?
$5 for standard domestic shipping and $15 for standard international shipping.
We offer FREE standard shipping for domestic orders of $50 or more!
2. What is your return/exchange policy?
We have a hassle free 30-day return policy for all valid products.
*Product must be in new and sellable condition with all original packaging.
Simply email us at hi@thewanderclub.com to get started.
If something is wrong with your order order, please let us know and we will resolve the issue at no extra cost to you.

3. How long will it take to receive my order?
It takes us ~2-3 business days to craft and ship out an order.
Standard shipping for domestic orders takes 3-6 business days for delivery.
Faster shipping rates are available at checkout.
As soon as your order has been shipped, we will email you a tracking number.
Awesome Gift!
I bought this as a birthday gift for my daughter. The gift packaging was beautiful and I can't wait to give it to her!
Great simply idea my Wife LOVED
Got this for my wife because she's loves to travel and has been to A LOT of countries, particularly in Europe. The key chain is classy and seems to be made with good quality materials so hoping it will last. The token aren't anything to write home about and think $5 is a little to much, but all together I can't help but get them.
Travel keepsake
I was looking for a cool way to remember my travels & I ended up stumbling across an Instagram Ad for this and clicked it right away! I love how they have so many options to choose from: countries, states, US national parks and national parks, monuments, etc. and an option to customize tokens as well.
This is the perfect gift for someone who has a travel bug or wants to remember the places they have been. I can't wait to collect more tokens to grow my collection.
When I purchased the tokens and the keychain, I loved how the tokens came in a velvet bag to prevent damage. Also the engraving varied per token. I personal like it, it felt like it had a story of its own.
Would definitely purchase again!
You so get us! This is exactly what they're for.. Travel bugs who want to have something tangible to remember travels by. Welcome to The Wander Club!
Looking forward to your future travels (and orders)! :)
Key chain not included
Key chain was not included but shown in the package I chose. It should have been notated that the key chain was not included. Etching is very faint and poor quality.
HI! I'm so sorry if there was some sort of miscommunication on the website. We try to be as descriptive and transparent as we can. I see that you already made a follow up order for the Wanderchain. I appreciate you for supporting our small business!
Very disappointed
The picture here is not what I received. I got a cardboard box and a cheap white canvas bag for $8. What a rip off.
Packaging
My 20-something-daughter was delighted with the gift.
Gift Packing Worth it !
We ordered the gift packing and it had a wonderful box with a blue satin sack. It gave the key token chain more class as a gift opening the sack and box. It also had a blue sack for the tokens. Just added charm to the gift. My niece loved it. A big difference for a gift !!!